---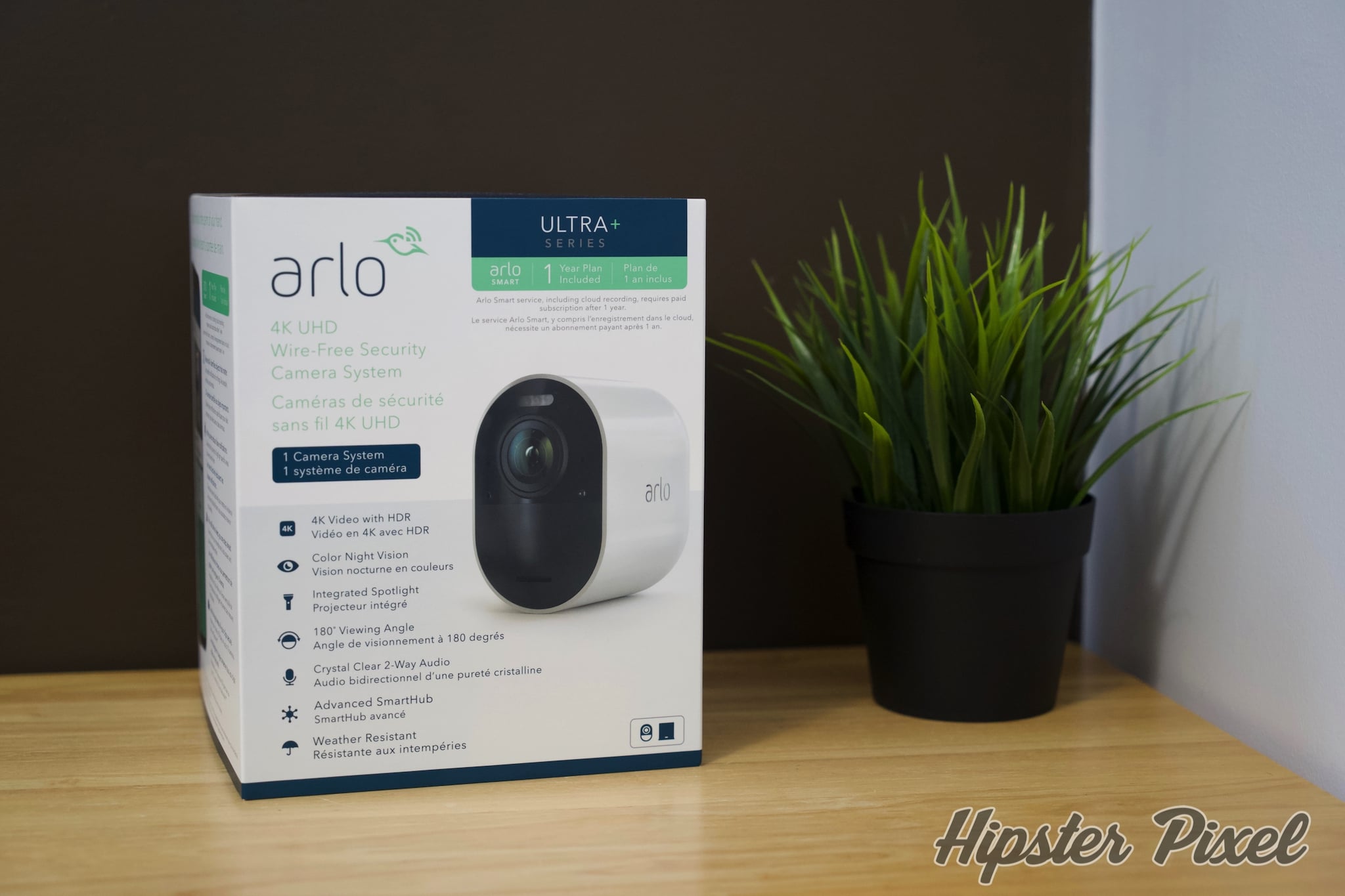 Arlo Ultra Security Camera Review
Over the years I've reviewed a bunch of security cameras, but more recently I've reviewed the Circle 2 by Logi and the D-Link Homekit camera. Both had their strengths and flaws, and I must say that my preferred still is the Circle 2 for its great ecosystem of accessories. But Arlo, has been working non-stop on making camera after camera, when looking at their website, I counted a total of 7 camera products currently being sold going from the baby monitor all the way to the 4K Ultra camera.
Well, I just so happen to have the single-camera Arlo Ultra for review and I've played with it for a couple of weeks. I've tried it on a bunch of placements and I tried to mess with the settings like a mad man… you'll know why in a minute. But first, let's take a look at the camera itself!
Design
The Arlo Ultra is a very smartly designed camera that consists of the camera internals, a cubic battery and an outer shell. By the press of a button, you can get the internal out of the shell since it's spring loaded. Then, you can install or remove the battery. There is also a magnetic charging pad below the camera so you can simply bring the camera inside and snap the charging cable to it. No need to take it apart.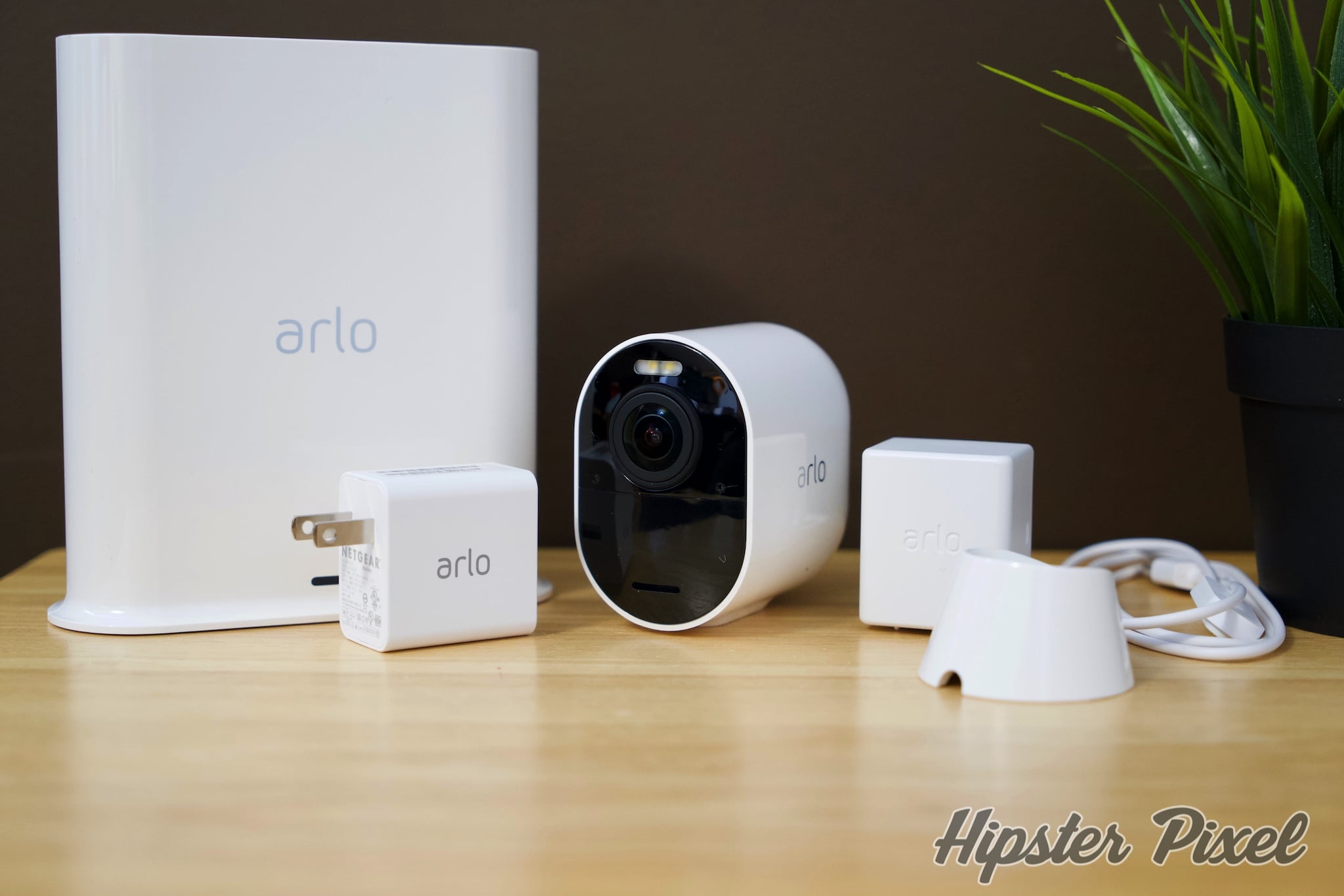 On the front, a very wide-angle lens is what you mainly see. On top of it, a very strong light that illuminates when someone passes by the camera. A dual set of microphones and a speaker are also present so you can discuss with your visitor, welcome or not.
The camera comes with a magnetic stand which you can screw to a wall or with the appropriate non included hardware, to cement. This allows you more to change the angle of the camera freely. It's a very smart idea. You can also purchase other stands on Amazon since it has a standard screw hole on the back. There are flexible mounts , similar to the Gorillapod 5K I just reviewed, and screw-on mounts that can be adjusted and even screwed to trees. All of these are not from Arlo so I cannot say the Arlo Ultra has a vast ecosystem like the Circle 2, but 3rd party sure help to get this little camera mounted anywhere.
Features
4K HDR Video Recording
Auto-zoom and subject tracking
Enhanced Color Night Vision
Dual noise-cancelling microphones
180˚ Field of View
Smart Siren, Activity Zones
1-year of free Arlo Smart
Installation
Getting a camera setup is no easy thing, expecially when it's wireless. You must not only make sure to set it up securly, but also that the wireless network of your home reaches it. I've get an Eero Pro system and an aluminium isolated house (this helps with heat transmission but also blocks all types of electro magnetic waves) and I have barely good reception when setting it up just above the front door. I would have liked to set it up in the yard, on a tree but I'm not sure I would have enough range to it.
I got myself a mount so that I can attach my camera facing a little downward on the front of my house. It came with a rubber hood and I could quickly srew it in place.
The initial setup is a real joke. You simply connect the Arlo SmartHub and optionally add a microSD card to record the videos to it. Then, you launch the mobile app and follow the steps. I won't bore you with the details, but basically you setup the Hub, update its firmware, detect the camera by inserting its battery and after a few screens, and more updates you are ready to go. Just know that this is very much hand-holding all the way and it worked perfectly on the first try. Love the graphics and the little animations, it reminds me a bit of the Eero Mesh Network 2nd Generation I tested awhile back.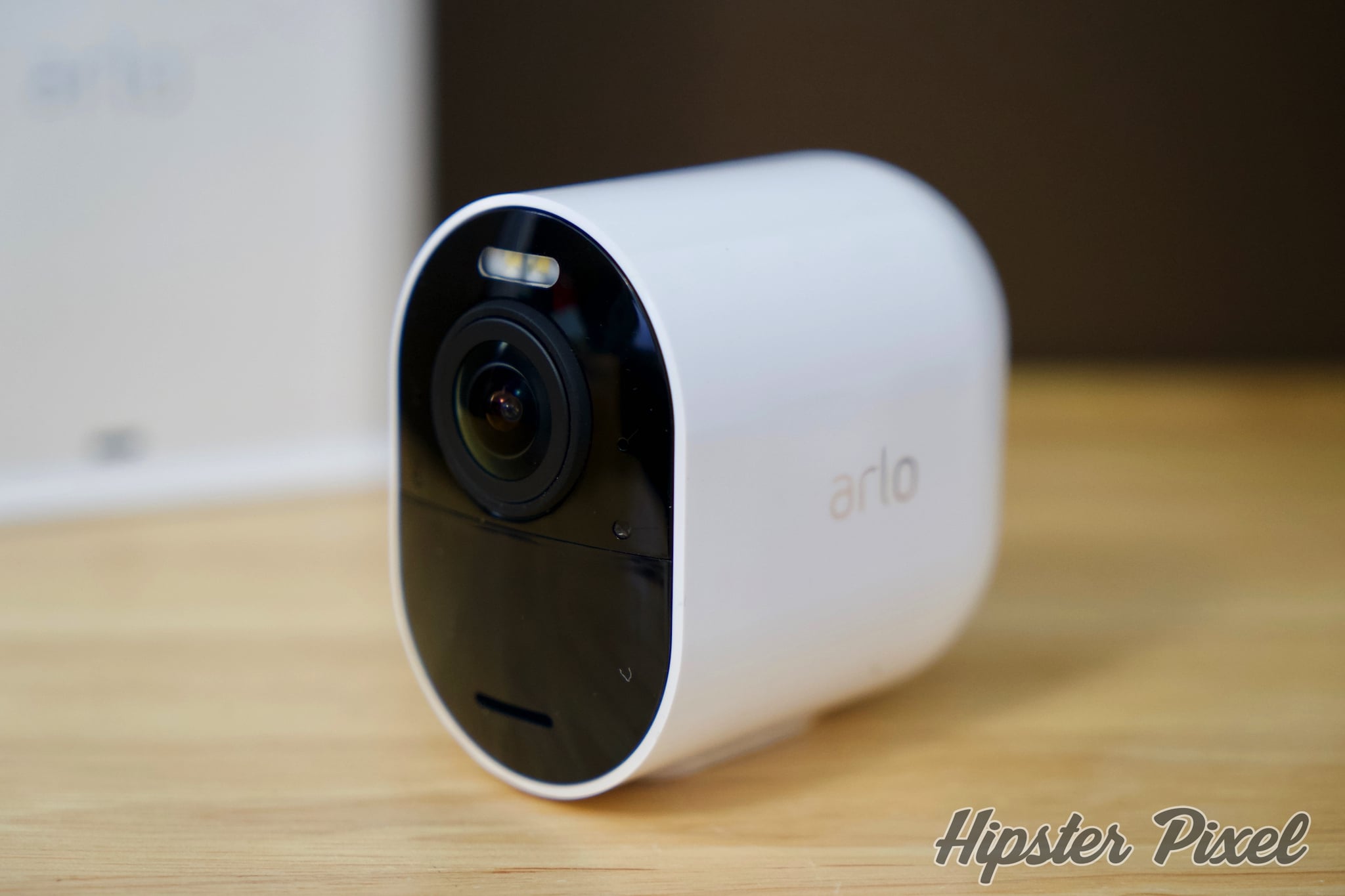 Performance
There is a lot to say in the performance area of things. Let's first go through the configuration of the camera, there are many, many options, including activity zones. Then we'll move on to the accuracy, night vision and battery life.
Configuration
Let's start with the SmartHub, it has the least number of options, but it does have what it needs. You can setup recording of the videos on the microSD card you plugged into it. You can also select if you would like 4K recordings of the videos and if the camera should rollover old videos, once it's actually filled. After a few weeks, I've only filled about 6 of the 16GB of my memory card.
Note that if you use the Zoom feature where the camera will zoom to people walking by or vehicles, it will record in 1080p only. If you want 4K in all its glory, disable that feature. The rest of the features for the camera itself are related to the picture where we can set the brightness, Auto-HDR, Local 4K streaming, Auto-Zoom and Tracking as well as Low Light management.
The Auto Zoom & Tracking feature is interesting and works mostly as advertised on Arlo's website, however, the picture quality is much grainier and really not as clear. Remember that from the camera and the mobile app, even if you enable 4K recording, you won't be able to download it from there, all is happening in HD. You need to load up the microSD card, that's where the 4K footage is found. Think of it as an archival mode in higher resolution!
Activity Zones
One of the features most of us like to setup is the Activity Zones, these allow you to track movement or objects but only in specific zones and ignore the rest of the image. In my above example, I've setup the camera in front of my house and I do not care about cars or passersby that do not come onto my driveway or on my lawn. Therefore, I have set up to zones, one called Driveway and one called Lawn. My expectation is that anything happening outside these zones would be ignored. Well, I was very, very right.
The Arlo Ultra only uses these zones to notify you where somebody passes. Like "A vehicle was detected in Driveway". But it is also triggered when a car passes in the street. I have recorded hundreds of events on my microSD card with the camera facing the street. So much so that I counted over 25 events for just a single hour. And the sad thing is that the battery life suffered, greatly.
Smart Detection
You can specify what types of movement triggers a notification. A Person, an Animal or a Vehicule, this smart recognition feature will try its best to guess what things are. It's very often right, but sometimes confuses things. I got an "animal" for a clip where I could not see anything, perhaps the wind ruffled too many leaves? And a cyclist was considered a cyclist. Most of the time it's actually funny, but for people it is usually quite accurate.
This is a very useful feature and I'm assuming it will only get better overtime.
Accuracy
Once you have readjusted your expectation, the accuracy of the detection is actually quite good. You can be alerted by notification only when certain things happen and this makes it a good experience to only get notified for what you want.
Sadly, because of the previous point about Activity Zone, you will need to place the camera far from the street or angle it down so low as to completely exclude streets or sidewalks from it.
Night Vision
The coloured night vision is actually pretty good. The sensor seems to be sensible enough with a good amount of noise reduction that makes up for a slightly discoloured but still coloured video.
The embedded LED light is very strong and can actually help with the video since it does light up subjects. Its main feature is a deterrent though so people getting too close will know they are being filmed.
Battery Life
As you might have guessed, this is where the Arlo Ultra falls short. Because of it constantly being triggered by subjects outside the activity zones, it basically records all day. I had over 400 clips in one single day last week!
The battery is dead after 2 days, at most three. Not something ideal, especially if you want to peak at your house during a vacation that is longer than a weekend.
Arlo Smart Premier
The cameras come with a free 1-year plan for up to 10 cameras and 30 days recording. This plan is what enables smart notifications and people detection, similar to how Logi is selling their monthly plan to add similar features. At 3.49$ per month per camera it's a good price for the rich notification support and image recognition, they even recently added package detection for when UPS drops a package on your porch. I feel this is a mandatory buy for this camera to really be featured full.
Conclusion
The Arlo Ultra does not have the most complete ecosystem, but it has great features that make it very fun and practical to use. The Auto-Zoom and Subject Tracking is very cool and makes for a nice demo. However they are sadly not available when in 4K, the video has to be 1080p so that it can zoom around the frame.
I feel that for every nice feature, there is a downside. For example, the Activity Zones are just for notification purpose, as the camera still records every passing car or pedestrian outside the activity zone. The swappable battery idea is nice but because it literally records hundreds of clips per day, it drains the battery in a matter of 2, maybe 3 days.
So to who is that camera really for? It is made for securing a perimeter where there is basically no movement regularly. And when there is some, it will trigger the camera, light and allow you to sound the alarm if you wish. Then, this camera will be worth it! I've seen a local shop that recently installed these inside his place of business, it makes total sense as after the store closes this is a perfect security camera system.
Given that you can set it to have specific armed hours, or geofencing, it's ideal for a business scenario or a house scenario when you are asleep or out of the house.
But if you are looking for something to secure your front porch, you might have problems setting up the camera so that the battery does not drain in matter of days. You could always get a weather-resistant extension, however, the camera placement might not be ideal to have a dangling wire. Given the price of the kits, even the very expensive one camera kit, I would really ask myself if my need is for rare movement or constant movement type scenario before buying. Or making sure I can return it later if it does not fit the bill.
I really wanted to love the camera, the design is great, the feature list looked impressive but the limitation in terms of battery life and activity zone detection makes it a hard sell for many scenarios. Only if you were looking to point it at your porch from atop or to the back of your house, would it make sense.
Review Summary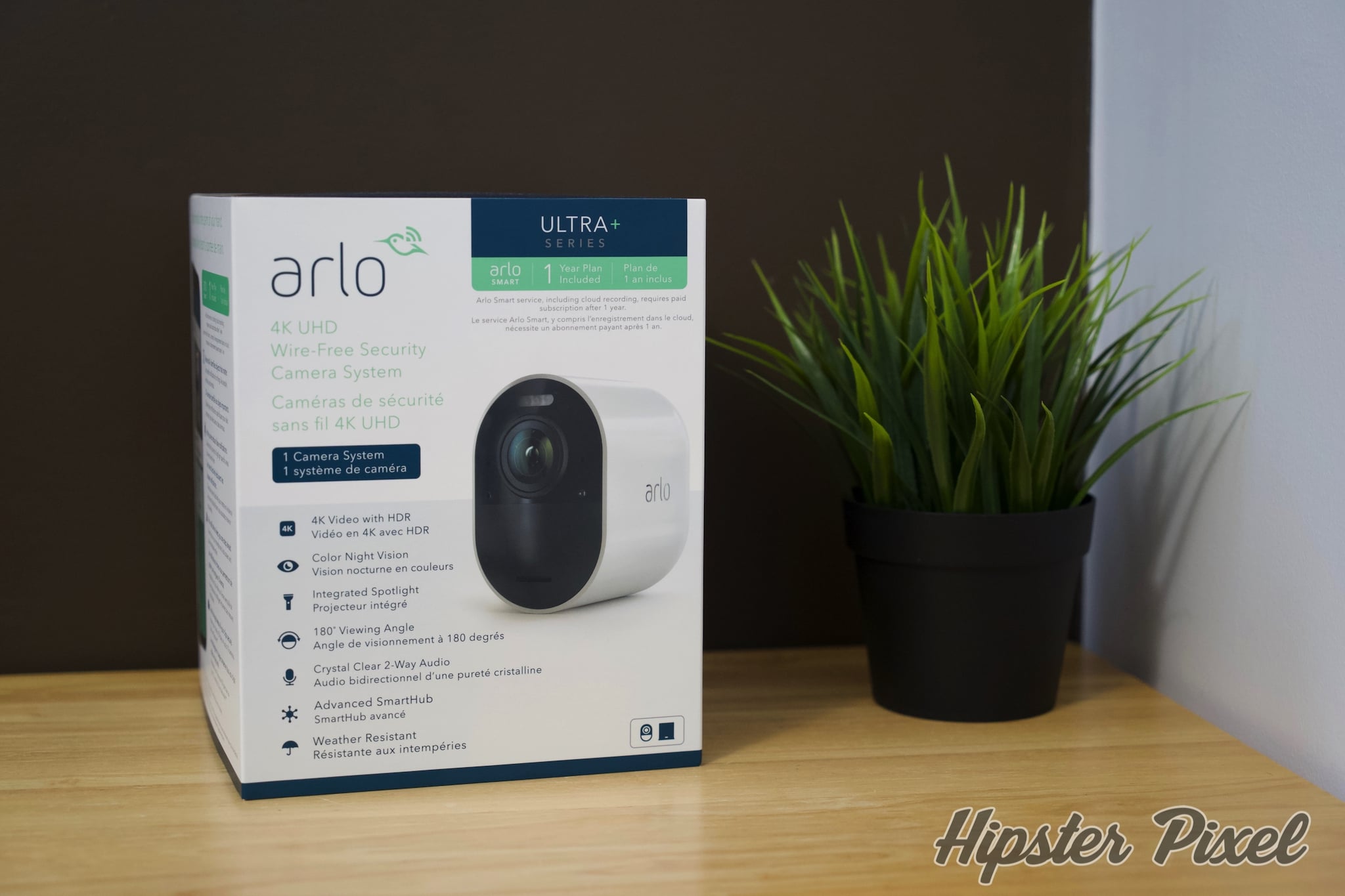 The Arlo Ultra is a high quality 4K security camera that is supposed to pack-in a punch, let's see what the fuss is all about for the Arlo Ultra and the Arlo ecosystem.
The Good Stuff
High quality design
Quality components
Feature full
Person and object detection
Zoom Tracking subjects
The Bad Stuff
Very expensive
Useless recordings outside Activity Zone
Battery life is poor when lots of activity present
Placement optimisation due to battery life
The Ratings
Installation & Configuration
80%